Our next Interview is with East Street Tins
1) How did you come up with the name to your shop?
I live on East Street and it seemed an easy name

2) What was the first thing that you created & sold that made you think- Wow- I CAN do this?



I started out making brooches out of zippers and approached a few shops and they were interested.
3) Who or What started you on this path?
Then I took a two week course at Haystack Mountain School of Crafts using many different kinds of materials to make wearable art. The material I liked best was tin because of the color and recycling nature of the cans. I came right home and set up a studio in my basement and started production.
4)What is the Favorite tool of your trade and why?
Probably the thing I use the most other than my eyes for color, is my flex shaft machine for sanding and drilling.
5) What is your best advice or tip to give another vendor?
When it is slow on Etsy, pack up your merchandise and go on the road. Look for shops to carry your products.
6) Are you doing any craft shows this year? Where can others find you?
I hope to do some craft shows this year. At the present I am signed up to do one at Baltimore Woods in May. Last year I had successful shows at MayDay Underground in Rochester and the Pepper Market in Syracuse. I sell my jewelry at Imagine in Skaneateles, Craft Co.# 6 in Rochester and the Schweinfurth Art Center in Auburn. Always looking for more.
7)
What is the favorite item in your shop and why?
My favorite item of the week is a necklace I just completed using a tin mold and tin from a variety of vintage cans. I love the mix of colors and textures.
Into the Sunset-Mixed Recycled Tin Necklace- Statement Travelers Necklace-Sailing Ships ($72.00)
8)

My favorite picks for this shop are: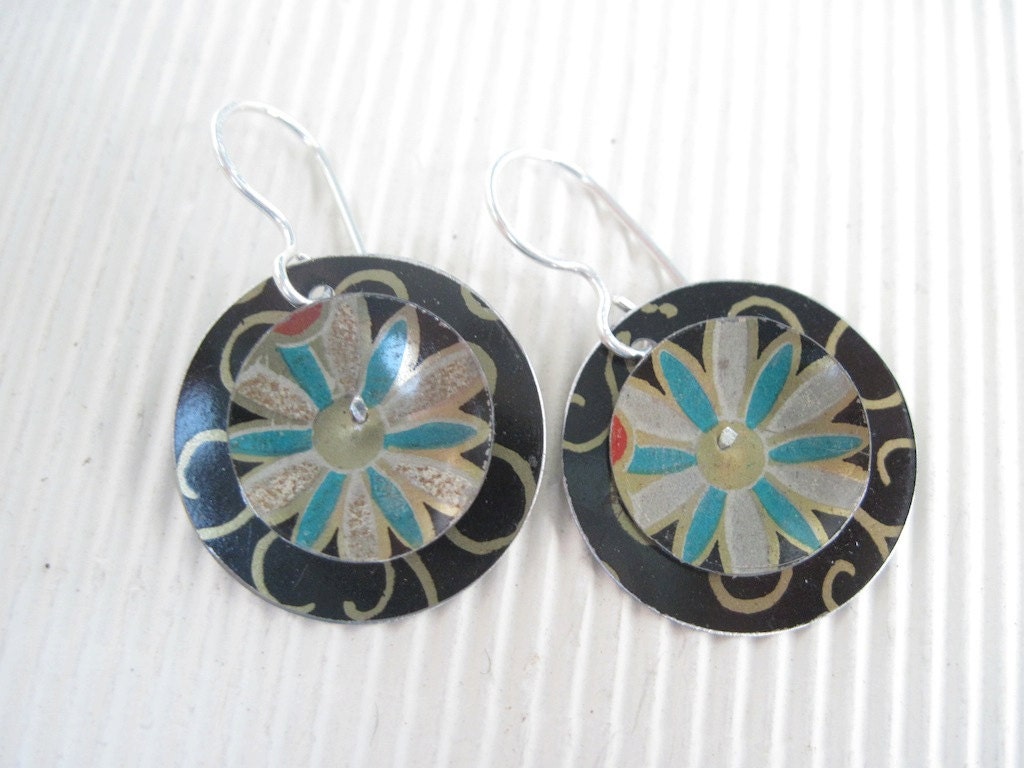 Black Turquoise Medallion Disc Earrings-Recycled Tin-Ornate Patterns-Lightweight Earrings ($22.00)



I

think these are so pretty. Something different.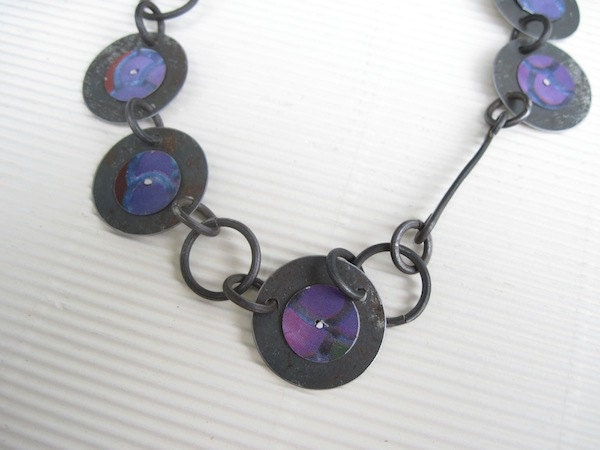 Necklace: Mixed Metal Disc -Purple Necklace- Recycled Tin- Long Necklace- Handmade Steel Chain
($82.00)
I like one because it is simple and pretty.

8) Please tell us your links (ie facebook/twitter/web site etc).
Her links are:
www.eaststreetpins.blogspot.com
www.facebook.com/EastStreetTins
vimeo.com/35467991

Thanks, Betsy...good answers